Balsamic Duck Legs with Mushrooms
Ingredients

4 Duck Legs
3 tbsp olive oil
3 tbsp balsamic vinegar
2 garlic cloves
1 small shallot
4 sprigs fresh thyme
kosher salt and ground pepper
Mushrooms:
2 tbs olive oil
1/2 lb cremini mushrooms, stems removed and caps thickly sliced
1 green onion thinly sliced
2 tbsp balsamic vinegar
1/2 tsp fresh thyme
kosher salt and ground pepper.

Directions

1: Pat the duck dry with paper towels. In a shallow, nonreactive bowl large enough to hold the duck legs, stir together the oil, vinegar, garlic, shallot, thyme, 1/2 tsp salt and a 1/2 tsp ground pepper. Add the duck legs, turn to coat, cover and refrigerate for 3-4 hours, turning the legs once or twice.
2: Remove the duck legs from the marinade. Put the marinade into a sauce pan, bring to a boil over high heat. Remove from heat and reserve to use as a glaze.

3: Select a pot large enough to hold a footed flat rack on which the duck legs will stand, at least 2 inches above the bottoms of the pot. Add water to a depth of about 1 inch.

4: Place the duck legs skin side up on the rack. Bring water to a boil, cover tightly and steam the duck until the skin is translucent, about 20 minutes.

5: Meanwhile, preheat oven to 450. Line a roasting pan large enough to hold the duck legs in a single layer with heavy-duty aluminum foil. Place a flat rack in the pan.
When the duck legs are ready, transfer them skin side up to the rack on the prepared pan.

6: Brush the skin with some of the glaze, and roast until the skin is brown and crisp and a thermometer inserted into the thickest part of a thigh away from the bone registers 170 degrees. (about 20 minutes)

7: Remove the pan from oven and brush the drumsticks again with the glaze. Tent with aluminum foil and let rest for 5 minutes. Meanwhile, prepare the mushrooms: In a large fry pan over medium-high heat, warm the oil, add the mushrooms and green onion and sauté until the mushrooms release their liquid, about 2-5 minutes.   Add the vinegar and thyme and sprinkle with salt and pepper. Cook until the mushrooms are softened and most of the liquid has evaporated, 2-3 minutes longer.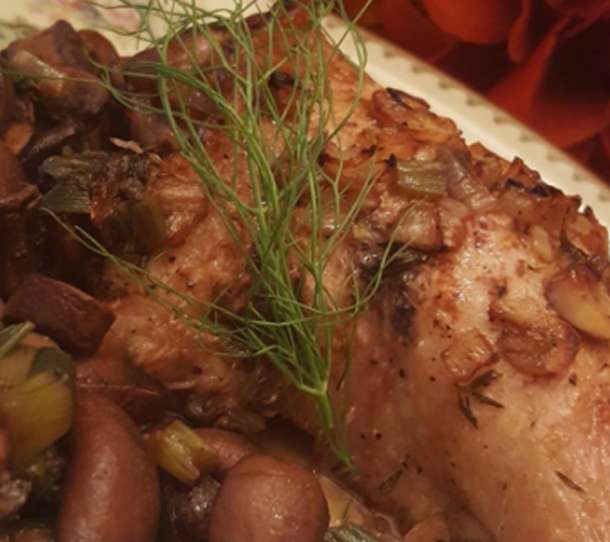 back to all