Butternut Squash Alfredo with Cherry Duck Sausage 
Recipe by: Nicole L.
This is a great light recipe when you're not quite ready to say "goodbye" to summer but excited to say "hello" to fall!
Ingredients

1 Package of Pelleh Poultry Duck Cherry Sausage
2 tbsp. Margarine
1 cup Diced red onion
1 Garlic Clove
1 Small Butternut Squash Cubed
1 cup Low Sodium Chicken or Vegetable Stock
1 1/2 tbsp. chopped Fresh Sage
1 1/2 tbsp. chopped Fresh Thyme
1 cup Low Fat Coconut Milk
Salt to Taste
1 lb. Pasta.

Instructions

In a large skillet add the margarine and the red onion. Sauté until slightly soft (about1-2 minutes.)
Next, add in the garlic, sauté for 30 seconds, stir and add the butternut squash, stock, sage, and thyme. Stir and cover. Cook until the butternut squash is fork tender, about 8-10 minutes.
While this is cooking, get a large pot of water and bring to a boil. Add in the pasta and cook, generally 8-10 minutes.
When the squash is tender, add everything into a food processor along with the coconut milk and salt to taste. Puree until smooth.
In the meantime, heat a small skillet to medium high heat and add the Cherry Duck Sausages. You can put these into the oven if you prefer, but I just heated these up. Cook about 4-5 minutes to get warm.
When the pasta is done, and the butternut squash Alfredo is smooth, add the Alfredo to the pasta and lightly toss. Slice up the sausages and serve!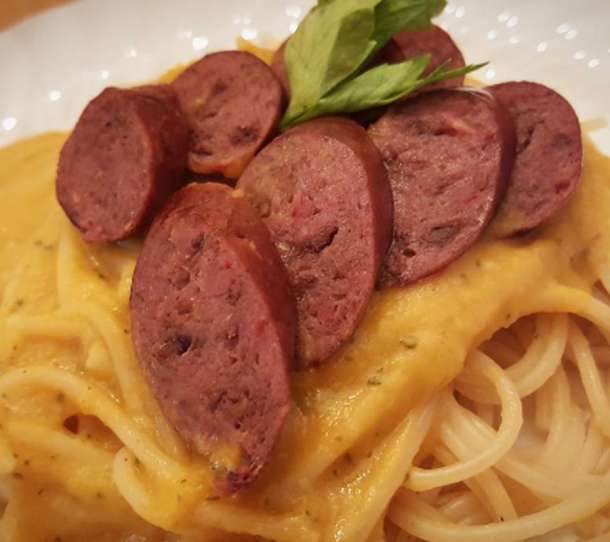 back to all