Chocolate Chunk (and Duck Fat) Shortbread by Shushy Turin
When you hear duck fat, you think potatoes, right? That's where I'm about to change the way you think forever. I've had some of the most incredible experiences using duck fat in place of butter in dessert dishes.
One day I discovered that I had only half the amount of margarine I needed for a recipe, and since I never have shortening in the house, that day I made a vanilla bean blueberry pie with a duck fat crust. The outcome was incredible.  Though I made a couple of faces while putting the recipe together and seriously doubted anyone would touch the pie, it was actually one of the most flaky and melt-in-your-mouth crusts I had ever made.
It turns out that duck fat actually contains less saturated fats than butter or margarine, and it doesn't taste like duck at all! The whole experience got me thinking that duck fat should replace butter or margarine in any recipe where light, butter-made flakes are required. Namely – Shortbread!
These cookies literally melt in your mouth, the way any good shortbread should!
Yield: 24 Cookies
Ingredients

1/2 cup + 2 Tbsp trans fat free margarine or vegan butter
1 (4 oz) jar Pelleh duck fat
1/2 cup light brown sugar
1/4 cup sugar
1 tsp pure vanilla extract
3/4 tsp kosher salt
2 1/2 cups flour
6 oz bitter sweet chocolate, cut into chunks
1 Large egg, beaten
Demerara or raw sugar
Flaky salt, for sprinkling
Directions

In the bowl of an electric mixer fitter with the paddle attachment, combine the margarine, duck fat, and white and brown sugars. Mix at medium-high speed until very light and fluffy (3 to 4 minutes). Add in the vanilla and salt and mix to incorporate. Scrape down the side of the bowl wit ha non-stick spatula, then add in the flour and beat at low speed until just beaten and no flour shows. Stir in the chocolate chunks.
Place a large sheet of plastic wrap on the counter. Pour half the dough onto the plastic wrap and bring together with your hands to form a mound. Press lightly. Wrap the mound in a plastic wrap and roll the plastic-coated mound into a 2″ wide roll. Press as tightly as you can to remove as much space between the dough as possible. This will prevent crumbling later.
Repeat with the second half of the dough. Chill for 2 hours until firm.
Preheat oven to 350 degrees and line 2 fleishig baking sheets with parchment paper.
Brush the outside of the logs with egg wash. Sprinkle the entire outside of the log with Demerara sugar. Using a sharp knife and a swift firm motion, slice the log into 1/2″ rounds. (Some of the dough may crumble off, just reattach by pressing together firmly.) Place on the prepared baking sheets.
Bake the cookies at 350 degrees for 12-15 minutes or until golden brown. Remove from oven and allow the cookies to sit on the sheet for 5 minutes before transferring to a cooling rack.
Wrap in plastic wrap or store in an airtight container for up to 5 days.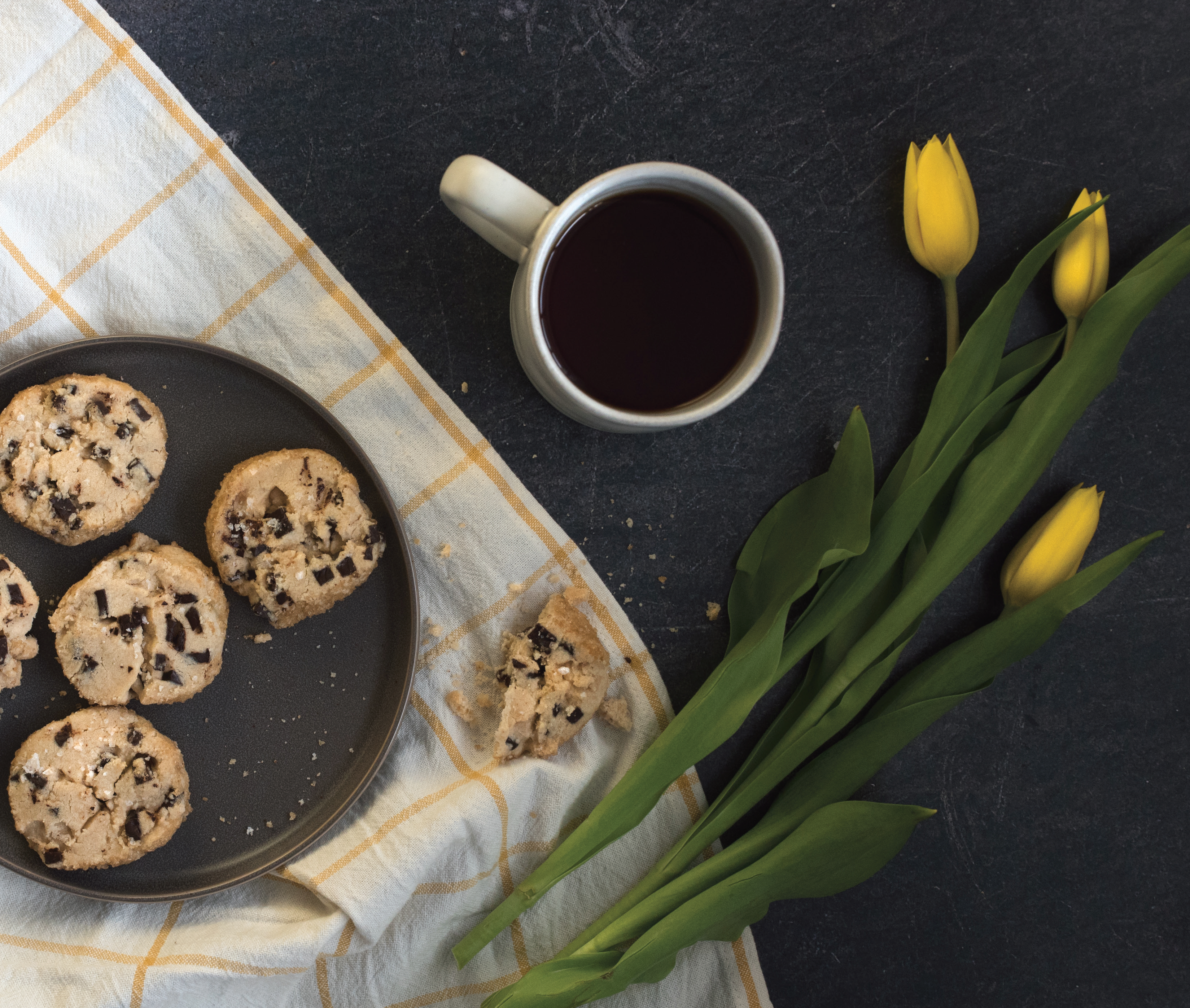 back to all