Classic Sour Dough Stuffing with Duck Fry and Duck Sausage
Ingredients

1 Tbsp. Canola Oil
1 Package Pelleh Duck Bacon- Rough Chopped
2 Packages Pelleh Italian Sausage- Sliced ¼ inch
2 Tbsp. Garlic, Finely Chopped
1 Cup Carrot Finely Chopped
1 Cup Onion Finely Chopped
1 Cup Celery Finely Chopped
6 Thyme Sprigs Picked
1 Sprig Rosemary Picked
¼ Cup Chives
¼ Cup Parsley
4 Cups Chicken Stock (low sodium)
6 Eggs
3lbs Day Old Bread Crumbs
Directions

1: Preheat oven to 325 degrees

2: Heat the oil in a large sauté pan, add the bacon and cook stirring constantly until just beginning to brown.

3: Add the onion, carrot, celery and garlic, thyme, and rosemary and cook until the vegetables soften and are just beginning to caramelize. Pull off the fire and allow to cool.

4: Combine the sausage, egg, stock, vegetable mixture, chives, parsley and bread in a large mixing bowl and mix thoroughly till the mixture is almost homogenous.

5: Place into a 9×13 pan. Cover with lid or aluminum foil and bake at 325°F for 30 minutes; uncover and bake 15 minutes longer..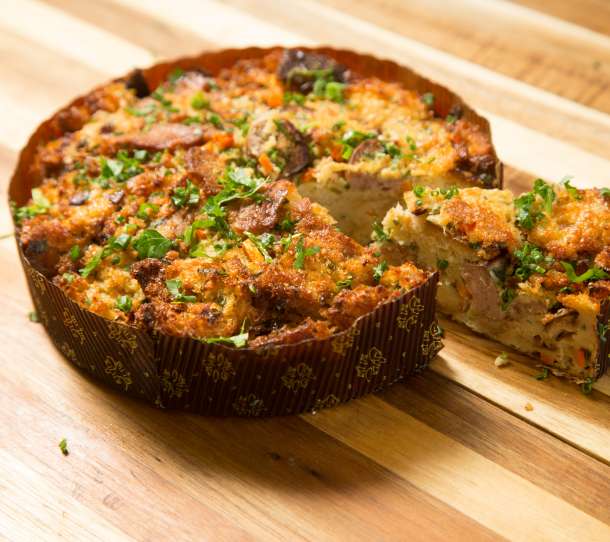 back to all