Honey Duck legs with Marmalade syrup and sweet potato mash
Preheat oven to 350

Ingredients

Duck Legs – 2
1 – Tbsp Honey
4 Tbsp Marmalade
1 Tbsp triple sec
1 Tbsp Orange Juice
1 cup sweet potatoes
¼ cup fresh coriander, chopped
1 Tbsp Rendered Duck fat (from the lads)
Salt
Pepper
Nutmeg

Marmalade syrup

Place the Honey, Marmalde, Triple Sec, and Orange juice in a sauce pan over medium heat. Reduce until slightly sticky. Mix in another splash of Orange Juice if it gets to thick. Set aside

Marmalade syrup.
Directions

Season duck legs on both sides with salt and pepper. Place skin side up in preheated oven uncovered for 30 minutes. At this point drain off excess rendered fat (save for later), and pour the Marmalade syrup over the duck, bake for an additional 60 minutes, basting occasionally. When ready, the duck should be very soft, golden brown and the sauce reduced to a glaze.

Sweat Potato Mash

Peal and steam the sweet potatoes until tender, and mash in with the rendered duck fat and nutmeg. Fold in the chopped coriander, and season to taste with salt and pepper

To serve, place a scoop of mash on each plate, lean a duck leg against it and spoon over the Marmalade syrup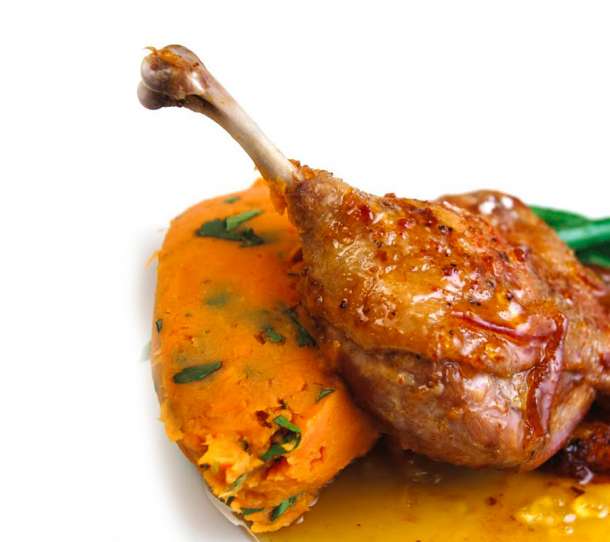 back to all