Sweet Potato Gnocchi with Duck Ragu by Shushi Turin
I'm a huge fan of bread, rice, and beans,
but if there is one thing I miss more than anything on Pesach, it is pasta. There are so many beautiful, rich sauces being served, with barely anything to absorb all that flavor. Yes, Pesach egg noodles are nice for chicken soup, but nothing compares to the bite and chew of regular pasta.
So I decided to make gnocchi — but not your average fluffy puffballs that are oh-so-hard to put together. This sweet potato gnocchi comes together easily and has an amazing gummy texture similar to real pasta. It pairs wonderfully with the incredibly fragrant and rich duck ragu, which breaks down into an incredibly soft and melty texture, and is topped off with a maror gremolata to give a lightness to the dish.
This recipe can be made in advance (always a plus over Pesach!) and since the duck is not roasted, it can even be served at the Seder meal.
Sweet Potato Gnocchi

3-4 Sweet Potatoes (1.5 cups baked)

1 Cup Potato starch

1.5 cups tapioca starch

Gremolata

1/2 Cup parsley, chopped

1 Clove Garlic, minced

Zest of 1 lemon

1 tsp Freshly horseradish

1 recipe Duck Ragu

Sweet Potato Gnocchi

To prepare the sweet potatoes, wrap them in foil and bake at 400° F for 1 hour or until soft. Remove from oven and scoop out the flesh. Mix the mashed sweet potato in a large bowl together with the potato starch and tapioca flour until a dough forms that is not sticky at all and still holds together nicely. (You may need a little more or less of the flour, depending on the moisture of your sweet potatoes.)
Sprinkle a clean surface with tapioca flour. Divide the dough into 4 portions and roll each portion into a long rope, approximately ½" wide. Slice the dough into ½" squares. Using the back of a fork standing upright, press the pasta dough in a downward motion so that the dough forms an oblong shape with ridges. You may need to wipe down the fork a couple of times during the process so that it is not sticky. Repeat until all the dough has been rolled and shaped. Place in a single layer on a cookie sheet.

Note: At this point, you can freeze the gnocchi if desired.
Bring a pot of heavily salted water to a boil. (The water should taste like saltwater.) Prepare a
bowl of ice water on the side.
Drop a handful of gnocchi into the pot, but be careful not to overcrowd. Use a spoon to make sure the gnocchi are not sticking to the bottom of the pot. When the gnocchi rise to the top of the water, they are ready to be taken out this should take anywhere from 30 seconds to 1 minute. Using a slotted spoon, transfer the gnocchi to the bowl of ice water for a couple of minutes, then transfer to a cookie sheet to drain. Repeat with the remaining gnocchi.

To prepare the gremolata, combine the ingredients in a small bowl just before serving. Serve the gnocchi with hot duck ragu, topped with gremolata, finishing salt, and pepper.
Duck Ragu

1-2 Tbsp neutral oil

4 Pelleh duck legs

½ tsp kosher salt, plus more to taste

¼ tsp freshly cracked black pepper

1 large onion, diced

2 stalks celery, diced

2 small-medium carrots, peeled and diced

4- 6 cloves garlic, minced

5- 6 whole tomatoes, peeled, or 1 (28 oz) can whole tomatoes

½ tsp allspice (or cinnamon)

½ tsp red pepper flakes

¾ cup red wine

1-2 cups rich broth

2-3 sprigs thyme

1 sprig rosemary

Duck Ragu

Sprinkle the duck legs with salt and pepper.

Heat a large heavy-bottomed pot over
a medium flame. Add approximately 1 tablespoon oil. Once the oil is hot, add the duck legs, skin side down. Brown for 4 to 6 minutes on each side, until golden. Remove from pan and set aside. Pour off all but 1 to 2 tablespoons of the duck fat and reserve for another use.
Add the chopped onion to the pan with  the remaining duck fat and sauté for 3 to 5 minutes or until translucent. Add the carrot, celery, and garlic and continue to sauté until soft (6 to 8 minutes). Add the allspice and red pepper flakes and sauté another minute, until fragrant. Add the peeled tomatoes and cook until they can be broken up with a spatula (or pour in the can of tomatoes and use a spatula to break it up somewhat).
Return the duck to the pot and add the wine. Pour in broth until the duck legs are just covered. (You may not need all the broth.) Nestle the sprigs of thyme and rosemary on top and bring to a boil. Cover, reduce heat to low, and simmer for 1½ hours or until the duck is fork tender.
Remove the duck from the pot and take the meat off the bones. Discard the bones and place the shredded meat back into the pot. Allow the mixture to simmer uncovered for another 30 minutes, or until the sauce is thickened.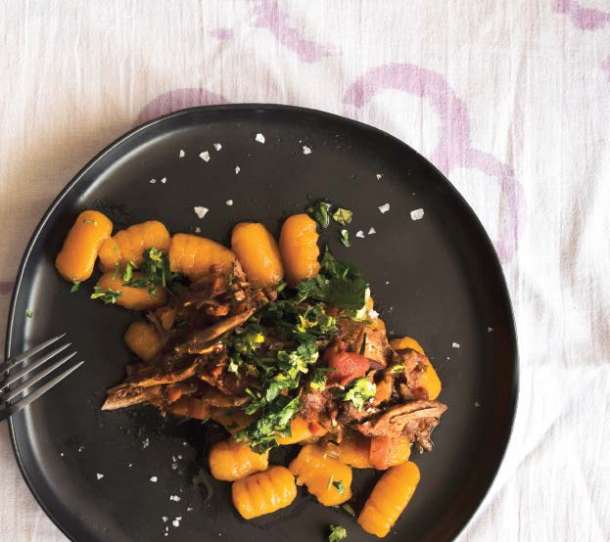 back to all