Tempura Battered Pelleh Italian Sausage Bites with Spicy Remoulade
Recipe by: Nicole L.
These tasty bites are the perfect appetizer that will keep your guests asking for more!
1 Package Pelleh Poultry Duck Italian Sausage

Tempura Batter Ingredients

1-1 1/2 cup Flour
1/4 cup Corn Starch
1 tsp. Baking Powder
1/4 tsp. salt
1/2 cup Cold Water
1 Egg, Beaten
1 tbsp. Vegetable Oil

Spicy Remoulade Ingredients

2 tbsp. Mayo
2 tbsp. Dijon mustard
2 tbsp. White Grain Mustard
1 tbsp. Lemon Juice
1 tsp. White Wine Vinegar
2 tbsp. Relish
2 tbsp. Capers, chopped
1 tsp. Dried Tarragon
1/2 tsp Ground Black Pepper
1.4 tsp Salt
Dash Habanero Tobasco (optional)
Directions

Combine all dry ingredients together then add all wet ingredients – It should be a very thick batter.
Fill pot with 3 inches of oil, get really hot!
Cut the Italian Duck Sausages into 1 inch cubes.
Stick the skewer into the middle, and dip into the tempura batter 1 at a time! If you can do 2 at a time, do that, but BE CAREFUL!
When the oil is hot enough, carefully dip into the hot oil and deep fry until the batter is a nice golden brown.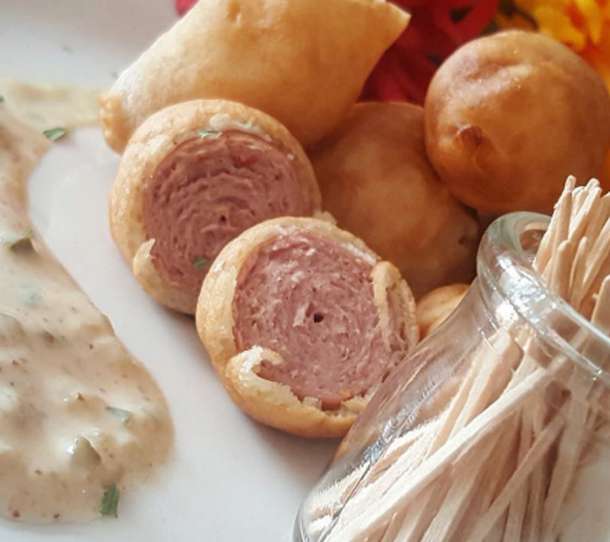 back to all