Warm Duck Breast Salad with Balsamic Cherries
A delicious and protein filled salad sure to be a summer hit!
Ingredients

1/2 TSP Coconut oil
Pelleh Duck Breast
1/2 TSP Sea Salt
Large Handful Cherries (about 15)
1 Medium Red Onion, halved and thinly sliced
10-12 Cherry Tomatoes, halved
1 TBSP Aged Balsamic Vinegar
2-3 cups loose washed salad leaves
12 Fresh Mint Leaves

For the dressing:

1 TBSP Lemon Juice
1/2 TSP Balsamic Vinegar
2 1/2 TSP Dijon or Yellow Mustard
Directions

Was and pat dry the duck breasts and bring to room temperature. Season with salt and pepper.
Place a large frying pan over medium heat and add the coconut oil. While the pan is still heating, place the duck breasts skin side down to start rendering off the fat. cook for about 15 minutes.
Prepare the cherries while the duck is cooking. Remove tails and place cherries on a cutting board. Press down gently with a knife until the cherry pops in half and the pit can be easily removed. Set aside and slice the onions.
After the duck has cooked for 10 minutes add the sliced onion and arrange around the duck breast. cook in the duck fat for 3-4 minutes, stirring half way. then add the prepared cherries (reserve a few fresh)/
Turn the duck breast over to the flesh side and cook for 3-4 minutes stirring the onions and cherries.
Remove the duck breast from the pan and let rest 2-3 minutes. The duck breast should be tender and slightly pink on the inside.
Arrange the salad and prepare the dressing. Drizzle the dressing over the salad and slice the duck breast and place the caramelized onion and cherries evenly on top.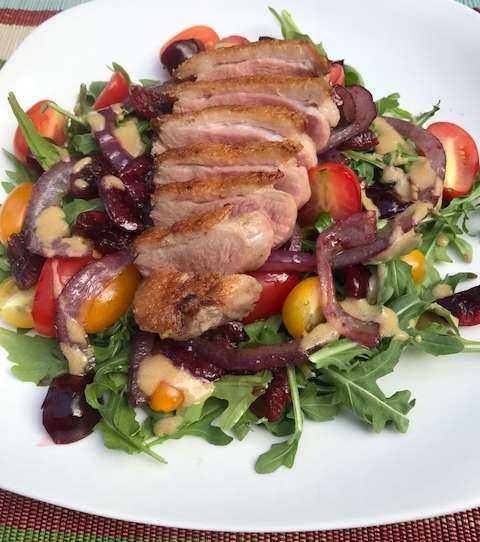 back to all